Professional Cleaning in Southern Ontario
Welcome to Estrada's Cleaning Services, your trusted local cleaning partner across Southern Ontario. With a legacy spanning over three decades, we have been dedicated to perfecting the art of professional janitorial solutions.
Cleaning Service Locations
Our commitment to excellence and attention to detail extend to a wide array of locations, catering to the diverse cleaning needs of this vibrant region. Here's a summary of the locations we proudly serve:
Greater Toronto Area
Our roots run deep in Toronto, the heart of Southern Ontario. We provide comprehensive cleaning services to offices, condos, medical facilities, and more.

Etobicoke
Estrada's Cleaning Services extends its cleaning expertise to Etobicoke, serving businesses and organizations in this dynamic neighborhood.

Mississauga
Estrada's extends its meticulous cleaning expertise to Mississauga, delivering cleanliness and professionalism to businesses, educational institutions, and healthcare facilities.
Brampton
Brampton businesses and offices benefit from our dedicated cleaning services, fostering a clean and welcoming atmosphere for employees and clients alike.

Oakville
Estrada's caters to Oakville's corporate and commercial spaces, providing specialized cleaning for various industries and organizations.

Burlington
We ensure that Burlington's offices, retail establishments, and communal spaces are spotless and inviting, contributing to the city's vibrant business landscape.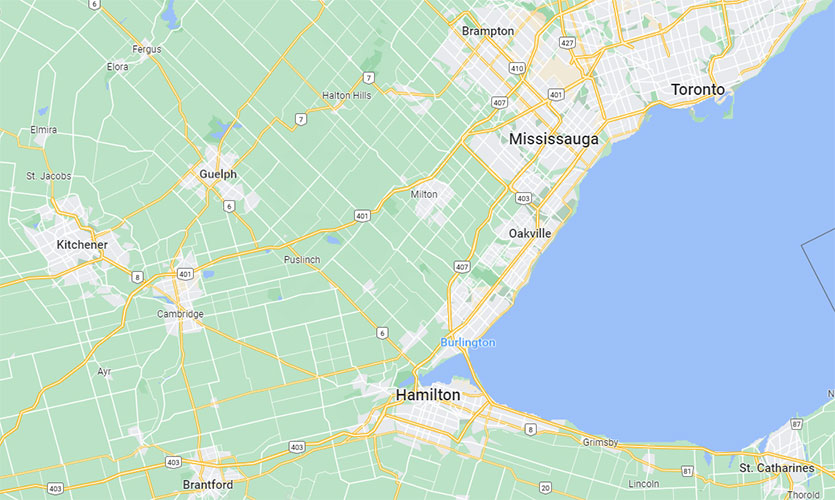 Milton
Milton's businesses and warehouses rely on us for comprehensive cleaning, ensuring their operations run smoothly in pristine environments.

Cambridge
Cambridge benefits from our expert cleaning services, maintaining clean and inviting spaces for businesses and organizations.

Brantford
In Brantford, we offer top-tier cleaning solutions, ensuring professionalism and hygiene in various business environments.
Hamilton
In Hamilton, we offer top-tier cleaning solutions to factories, warehouses, and industrial facilities, promoting efficiency and safety in this industrial hub.

St. Catharines
St. Catharines' diverse business landscape benefits from our customized cleaning solutions, ensuring a clean and productive environment.

Stoney Creek
Stoney Creek businesses rely on us for comprehensive cleaning, fostering efficient and clean workspaces.
From the bustling streets of Greater Toronto Area to the industrial complexes of Hamilton and the vibrant communities of Cambridge, Brantford, Stoney Creek, and St. Catharines, we take pride in serving Southern Ontario's diverse communities. At Estrada's Cleaning Services, we believe that cleanliness is the foundation of a successful and inviting space. Whether it's office cleaning, industrial maintenance, or specialized cleaning for your unique industry, our commitment to excellence remains unwavering. Join us in maintaining clean, safe, and productive environments across Southern Ontario.